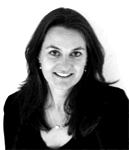 About Kate Delmar-Morgan
Before becoming a Nutritional Therapist, Kate worked in the stressful and pressured world of live communication and events within an agency environment, so she fully understands the daily challenges that most people face and the impact it can have on their health and their diet. Realising the impact of poor diet and lifestyle on her own health, Kate made the leap to study and practise nutrition.
With over 12 year of clinical experience Kate is a very experienced and highly qualified registered nutritional therapist. She graduated with a first class honours degree in Nutritional Therapy at the University of Westminster in 2006 and is a member of the British Association for Nutrition and Lifestyle Medicine (BANT). Kate is registered with the Complementary and Natural Healthcare Council (CNHC) and is fully insured. She regularly attends courses for the purpose of continuing professional development to keep up to date in the latest developments and evidence based research in nutrition.
Prior to her training at University she also obtained a Diploma in Nutritional Therapy at the Raworth International College for Natural, Nutrition and Sports Therapies.
Kate lectures in Child Nutrition at the Institute for Optimum Nutrition in Richmond and is often asked to speak at nutrition-related events and seminars. In her work to uphold the professional standards of Nutritional Therapists Kate sits on the Professional Practice Committee for BANT and is also a trained and BANT accredited supervisor working with groups of Nutritional Therapists in London and Berkshire.
Kate is also the Nutritionist for The Body Retreat delivering workshops on Healthy Eating, Weight Loss and Stress & Nutrition. She is also the Nutritionist for Lulubaby and delivers nutrition workshops to pregnant ladies in their third trimester.
Kate's approach is friendly, practical and calm and she provides realistic recommendations. Above all her first priority is to inspire people to make more healthful food choices and become more interested in food and the part it plays in health.